Innovating Ladder Safety Systems
Reducing Lost time & Injury
$0 Down
You Don't Pay Until Our Product Is Ready To Ship To You
Expected pre-order delivery in December / January
This is a pre-order listing. Manufacturing is underway while we prepare for standards testing.
Pre-Order now and Claim your 1/200 entry now to win a revolutionary Apple Ipad 10th Gen ($1000 Value)
Introducing
The World's First Portable Ladder Footing System
The Ladder
LockDown Pro
LockDown-Pro
Designed & engineered to setup any fibreglass or aluminum ladder on any ground terrain in seconds
Choose Your System
The
Safest

Way To Setup Your Ladder
All portable ladders should have a level & stable base while being securely anchored for maximum safety!
Experience 10.5" of precise ladder leveling. Say goodbye to awkward adjustments and wasted time
Deploy our Auto Pivot & Grip ladder safety shoes to experience rock-solid ladder stability, taking your safety to new heights.
Multiple anchor positions help you secure your ladder with ease on hard and soft ground. Enjoy peace of mind during any task.
Setting Up Your Ladder Has Never Been
Easier
Don't let different ground terrain slow you down
Types of grass & sod can change. Your stability shouldn't.
Always Climb With
Confidence
Peace Of Mind
Efficiency
Trust
LockDown

your Ladder Today
You deserve to trust your ladder
LadderSpike
High Visibility

Safety Straps
Experience the convenience and security of a 10-foot auto retractable strap, which emulates the familiar caution tape you're accustomed to. Rest assured, our strap is designed to handle heavy loads of over 1500 lbs, ensuring your safety at all times.
Equipped with a top-of-the-line auto-locking carabiner, making them incredibly easy to use. No more struggling with tangled rope – simply attach the carabiner, and you're good to go.
The Ladder LockDown-Pro
Leveling

Legs
Experience precise ladder leveling for stairs and uneven surfaces with 10.5" of extension with auto locking every 3/16"
Our levelers come spring loaded with a single button actuation for retraction
Quick-Connect
Ladder Mounting Brackets
Easy to install with template instructions.
Easily attach our system to any ladder in your fleet, ensuring you always choose the right ladder for the job, taking your safety to new heights
Auto-360
Retractable

Ratchets
Our patented design helps you anchor anywhere, at any angle.
We make it easy, safe and efficient.
Ground
Anchor

Spikes
Pair your system with our foldable ground spikes for ultimate safety on penetrable ground.
When installed our handles and straps are easily noticeable to prevent any slips, trips, or falls
Auto Pivot & Grip
Spiked Ladder Safety Shoes
Over 15 square inches of spiked surface area for ultimate enhanced traction.
You'll never have to worry about the bottom of your ladder on those hard and slippery surfaces like pavement, concrete, stone, & even Ice!
We Want To Know Your Ladder
Stories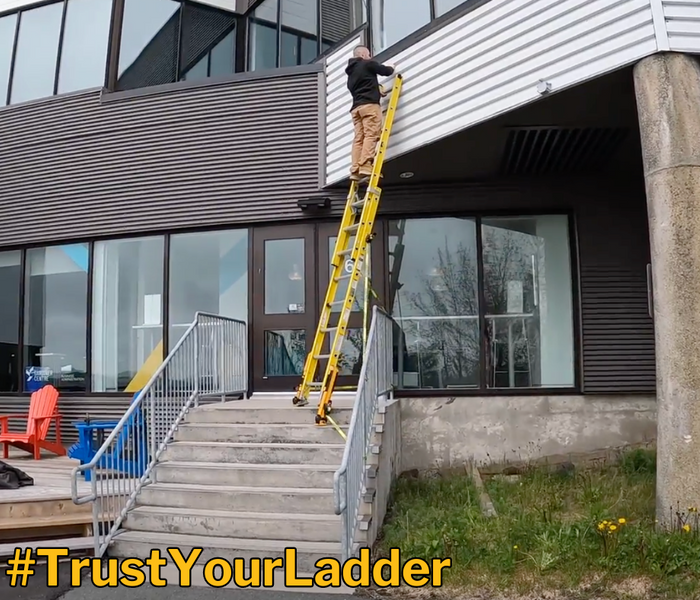 Use #TrustYourLadder to share in our community
Whether you're setting up for a day of work and posting on social media or have a story to share be sure to use #trustyourladder and join in the conversation
Everyone Deserves To Go Home
Safe
Employees Have The Right To Be
Safe
Minimize the risk of accidents and protect your employees from harm
Your Safety Should Be A
Non-negotiable
Prioritize the well-being of your workforce and demonstrate your commitment to safety culture
Extra Resources & Downtime can be
costly
Focus on what matters most: growing your business and providing your customers the best service possible
Let's work together to
stop

falls altogether!
Our Roadmap
March 2021
LadderSpike becomes incorporated
July 2021
LadderSpike's First Patent iterations filed
May 2022
LadderSpike joins Genesis's Enterprise Program
July 2022
LadderSpike recieves Provincial & Federal Engineering R&D project funding
Sept 2022
LadderSpike partners with major North American Telecommunications & Utility Companies
May 2023
LadderSpike raises $150,000 in private equity
Aug 2023
LadderSpike launches website & continues to pre-orders & commercialization
Our Future Milestones
Oct 2023
The Ladder LockDown-Pro's Standards testing commences with first production run
Nov 2023
Beta testing begins with some of North America's most prominent utility, telecommunication, and construction companies
Dec/Jan 2023
LadderSpike's first 200 pre-ordered systems delivered to customers